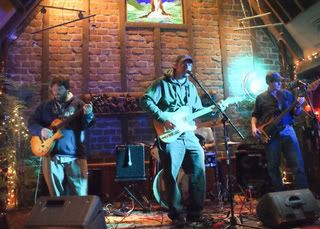 "Gentle music with honest lyrics, this CD muses thoughtfully on the hectic modern lifestyle." -
Beeb Ashcroft
(Indie-Music.com)
"Connelly is apparently new to the folk scene, though audiences will be hard pressed to tell. Superior acoustic skills trickle all over [
Sick of Blocking Out the
]
Sun
, paired most often with a slightly country-fried slide guitar and Connelly's own pristine vocal effort." -
Kevin Leidel
(muzikreviews.com)
"Its all very nice to listen to. Reminds me of if Morrissey were to have made music I liked. Tres cool" -
Brad Barr
(The Slip, Surprise Me Mr. Davis)
Talking About Commas
is the moniker for Bear Connelly, a singer/songwriter from Little Compton, RI who relocated to Vermont in 2013. Using a first person approach to songwriting, Bear tackles issues that are a part of our everyday lives from relationships, strength of self, compassion and the seeming dichotomy between the mind and heart; to authority figures and the human impact on the natural world. Once a 4 piece electro-folk band that gigged around southern New England, the live configuration of Commas now consists of Bear putting a modern spin on the traditional one-man folk show.
Bear Connelly - Guitar, Vocals, Songwriter
The Story of Talking About Commas
The concept for Talking About Commas was conceived in 2001 in Saratoga Springs, NY. While earning a music degree from Skidmore College, Bear Connelly started recording the original compositions he had been writing for the previous 5 years. In the Spring of 2001, Bear gained access to the school's recording studio and over the next year and a half recorded his debut album, 2002's
Variations on Descending Patterns
. Upon graduating, Bear moved out west in search of new surroundings and kindred musical spirits. A year later, while living in Colorado, he began to using the moniker "Talking About Commas" for his (at that point) studio-only one man band. Bear has played guitar, piano, bass, drums, Rhodes, congas, melodica, synthesized strings, and mandolin on TAC's first four releases and often sings his own harmonies. In 2005, TAC released a collection of home recordings dubbed
4-Track and Forget: Crude Home Recordings and Other Assorted Attempts at Enlightenment
compiled from 5 years of demo tapes. From 2004-2007 Bear lived in Lake Tahoe, CA. There he co-founded the band
Two Out Rally
with childhood friend Dan Hurley and drummer Chris Wolfe. While touring almost exclusively with Two Out Rally and
The White Thighs
, Bear continued to write and record songs for Talking About Commas and played some solo acoustic shows of TAC material in both Lake Tahoe and San Francisco. While in California, Bear released both of TAC's digital EP's (2006's
Love is the Other Side of the Fence
and 2007's
The Blue River EP
) through SNOCAP's online music store. Both EP's were recorded in Bear's home studio which lead to him experimenting with a wide array of synthetic sound textures not possible with acoustic instruments.
In August of 2007, Bear returned to his roots and moved back to Rhode Island to record and tour as Talking About Commas full-time. Some shows were solo acoustic efforts and some found Bear accompanied by a band. Talking About Commas' first LP on
Rhody Records
was released in July of 2008. The album, "Sick of Blocking Out the Sun", was recorded by engineer/musician, Pete Morse at Busted Barn Studios in Freeport, ME. It features Morse on electric guitar, lap and pedal steel guitars and bass, Stefen Samuels (of Portland Maine prog-rockers "Eldemur Krimm") on drums and a cameo by RI songstress Allysen Callery on the song "Plea Bargain". It was produced by Tom Newman. In December of 2008, producer and bassist, Tom Newman joined the live configuration of Talking About Commas. After a couple shows as a duo, the band added drummer Ethan Fry. With the existence of the trio, Bear has started to play electric guitar more while the band explored new arrangements of the previously acoustic Commas material. The trio made their live debut at the All Asia Bar in Cambridge, MA in March of 2009. In September of 2010 the band asked Anthony Lombardo, (a member of Bear's high school band
Purple Monkey Dishwasher
) to fill in for Tom at a gig at AS220 in Providence, RI. Despite being a guitarist first and foremost, Anthony accepted the challenge of playing bass for the show. Four months later at the same venue, Anthony played his first show as Commas' new lead guitarist and 4th official member. In the Spring of 2012 the live configuration of the band changed once again. Drummer Ethan Fry returned to his home state of California thus leaving the band. Subsequently, Tom Newman followed his desire to play music locally and joined the Newport, RI band
Procrastination Attempt
. On August 25th, 2012 Bear and Anthony debuted the new format with Bear returning to the acoustic guitar and Anthony still on lead electric guitar. The duo debuted 2 new songs (and one that hadn't been played since 2008) during the set. One of the new songs, "Memo", was written by Anthony (Lyrics by Bear) and was the first Commas song not written solely by Bear. In 2013 Bear moved to Vermont and continues to play solo shows of Commas material and is also gigging as a member of the Montpelier-based band Chris Kilian & the Vermont Brigade.
The name for this band comes from one of Bear's favorite books, The Catcher in The Rye. There is a scene early in the book where the protagonist, Holden Caufield, is being persuaded by his boarding school roommate, Stradlater, to write a composition for him... "What on?" I said.
"Anything, Anything descriptive. A room. Or a house. Or something you once lived in or something - you know. Just as long as its not too descriptive." He gave out a big yawn when he said that. Which is something that gives me a royal pain in the ass. I mean somebody yawns right while they're asking you to do them a goddam favor. "Just don't do it too good, is all," he said. "That sonuvabitch Hartzell thinks you're a hot shot in English, and he knows you're my roommate. So I mean, don't stick all the commas in the right place."
That's something else that gives me a royal pain. I mean if you're good at writing compositions and somebody starts TALKING ABOUT COMMAS. Stradlater was always doing that. He wanted you to think that the only reason he was lousy at writing compositions was because he stuck all the commas in the wrong place." -p. 28; The Catcher in the Rye by J.D. Salinger
Rhode Island:
"AS220" Providence "The Blackstone Club" Pawtucket "Cafe Zog" Providence "Crowthers" Little Compton* "Evelyn's Drive-In" Tiverton "Houlihans Tavern" East Providence "JR Beans" Bristol* "The Newport Yachting Center" Newport "The Stone House" Little Compton* "Senor Flacos" Westerly "Tazza Caffe" Providence "White Electric Coffee House" Providence Massachusetts
"All Asia Bar" Cambridge "Kennedy's Midtown" Boston "New Wave Cafe" New Bedford "PA's Lounge" Somerville "Porter Belly's Pub" Brighton Center "Ruckus Room @ ACCU Billards" New Bedford "Water Street Cafe" Fall River Vermont
"Healthy Living Cafe" - South Burlington "Langdon Street Cafe" - Montpelier "Sweet Melissa's" - Montpelier "Parima" - Burlington "Radio Bean" - Burlington California
"Connecticut Yankee" San Francisco "Jake's" - Tahoe City "Jason's" - Kings Beach "Red Vic Hotel" - San Francisco "Sierraville Hot Springs" - Sierraville "Trio Wine Bar" - Truckee ------------------------------------------------ "Truckee Regional Amphitheatre" - Truckee** "Bar of America" Truckee** "Bar One" Squaw Valley** "Fifty-Fifty Brewing Co." Truckee** "The Hotel Utah" San Francisco* "The Pastime Club" Truckee** "Trade Winds" - Kings Beach, CA** * as a member of "The White Thighs" ** as a member of "Two Out Rally" *** as a member of "Titlewaive"